Electric cabinet is a place to store / store electrical equipment / tables: Switches, bridges, transformers, transformers ... in buildings, houses, factories ... often have rectangular or square shape, depending on according to location and purpose of use.

Function of electric cabinet

Electrical cabinets are an indispensable part in any industrial or civil construction, from power plants to substations, transmission systems to distribution to electricity consumers. It is used as a place to install and protect electrical switchgear and control equipment, and is a place to connect and distribute electricity to buildings, ensuring isolation of electrical equipment with users. electricity during operation.

Can be made from metal or composite sheets of different sizes and thicknesses according to their needs. In normal applications, electrical cabinets are usually electrostatic or wrinkled with different colors depending on the field of use or design requirements.

Classification of common electrical cabinets

Depending on the function, structure and purpose of using electric cabinets, the following common types of electric cabinets can be divided:
Main distribution cabinet for construction (MSB)

- Main distribution cabinets are manufactured by tudien.org.vn according to IEC 60439-1 and IEC 60529 standards. Electric cabinet is made of galvanized steel and powder coated. Other parts such as electric cabinet cover, side cover and back panel of removable cabinet easily facilitate users in installation and maintenance.

- Arrangement of equipment inside electrical cabinets can be suitable for each customer's needs from the form of electrical cabinets. The cabinet is designed for indoor use to distribute electricity for large capacity loads with the advantage that the modular design is placed side by side to create a power distribution system that includes blocking access, partitioning. and distribution compartment.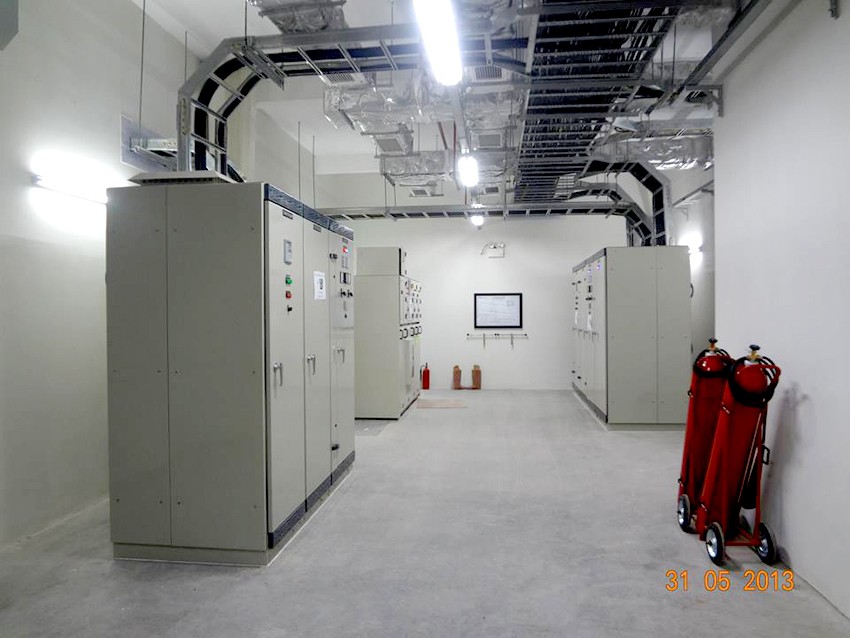 Central control cabinet

- Central control cabinet can be provided both types:
+ Fixed type
+ Non-fixed type (can be pulled and pulled back)
- Devices used inside electrical cabinets such as soft starters, inverters, direct starters, star / delta starter sets, transformer starter sets and protection and programming devices control and display.
- Frame and fish lid are made from electroplated steel and finished with electrostatic paint. Electrical control and protection of industrial and irrigation engines. Electrical cabinets have the operating mechanism as follows:
+ On-site or remote operation to close and reverse rotation for motors.
+ Operate on site or remotely to change the rotation speed of the engine.

Switching cabinets - ATS

The electrical cabinet used in areas where the load is required to supply electricity continuously, to supply power to the load when the grid side problem is commonly used as backup power is a generator. In the case of ATS electrical cabinet is responsible for automatically switching the power supply from the grid to the standby power to supply power to the active load source.
- Rated voltage: 380V / 415V
- Rated current: 1600A / 2000A / 2500A / 3200A / 6300A
- Time of switching: 5 ~ 10s

Distribution cabinets (DB cabinets)

- Electrical cabinets are designed for use in workshops, factories or distribution of electricity for a floor in a building. So the distribution cabinet is compact, high aesthetic, safe and convenient to operate.

- DB electrical cabinets are designed to create favorable conditions for choosing to use in the building. This cabinet is divided by blue, red, yellow, this will make installation easy and convenient as well as maintenance and repair later.

Fire extinguisher

Fire protection is an extremely important issue in any area, location: business, school, hospital or even household. The risk from fire and explosion factors may occur at any time without careful preparation. The fire prevention and fighting electrical cabinet has made the fire protection and protection system safer.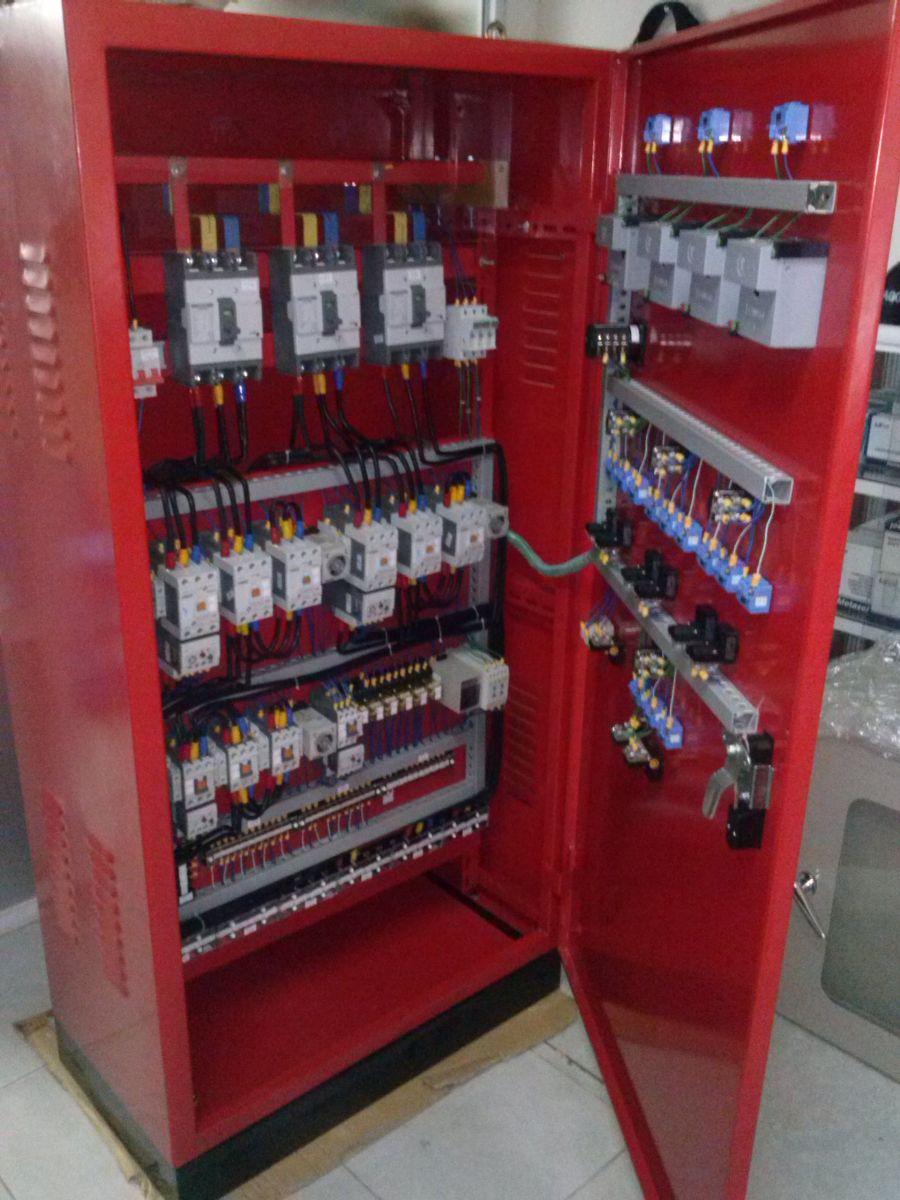 Principle of operation of fire protection cabinets:

Fire protection cabinets are placed in automatic mode, operating according to a specific process. First, the cabinet will automatically operate the pressure compensation pump if the fire protection system leaks water. Second, when the fire alarm, fire hose open fire protection cabinet will automatically operate the electric pump. Third, electrical cabinets automatically operate pump gasoline, fuel needed every time the fire alarm, open fire hose, power failure. Finally, the pccc electrical cabinet has an automatic charging mechanism and informs the current battery status to users.
- Voltage supply 3P-380V
- Signal phase light
- Measuring current and voltage
- Report losing phase
- IP 43 - IP 55 standard
- Corrugated sheets to ensure JIS G3302 (Japan), En10142 (Europe), and ASTM A653 / A653-08 (USA)

Lighting control cabinet

Lighting control cabinet used for lighting systems in public areas such as streets, urban areas, flower gardens, parks, bridges ... or in commercial centers, office buildings, general Residential, hospital, school, port, airport, stadium, ...
- Size depending on the principle diagram will have appropriate design.
- IP 43 - IP 55 standard
- Corrugated sheets to ensure JIS G3302 (Japan), En10142 (Europe), and ASTM A653 / A653-08 (USA)
- Combined with the time relay set to turn on, turn off the lighting device for a predetermined period.

Capacitor compensation cabinet

The cabinet is used to compensate for the capacity of the load in the workshop of the production lines, the large commercial side, capacity up to 600kVAR. The control method of capacitor compensation and protection meets the requirements of customers.

Rack cabinet

Rack or network cabinet, different from normal cabinets used in the home, rack (network cabinet) is a dedicated cabinet they are used to contain network devices such as Router, Switch, Server ... no just to contain them to protect this device from external environmental impacts.

Rack cabinets (network cabinets) are made from 2 main materials that are corrugated iron and steel, the thickness of the cabinet is usually from 1.2mm - 1.5mm with the standard cabinets, and with the poor quality cabinets it will be much more fragile from 0.8mm - 1.0mm.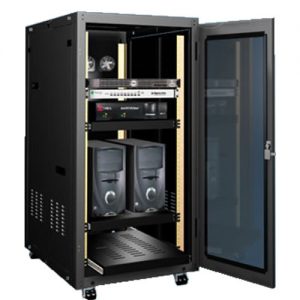 Cong To Electrical Cabinet

Electricity meter used to measure technical power or measure commercial electricity. The meter cabinet is designed depending on the load of the customer is 1-phase load or 3-phase load.

With a large capacity 3P load: lđm> 100A uses indirect meters combined with current transformer 1A or 5A.

With small capacity 3P load: lđm <100A use 10 / 20A direct meter, 10 / 40A, 20 / 40A, 30 / 60A, 50 / 100A.

With load 1P is usually a small capacity using 1P direct meter 3 / 9A, 5 / 20A, 10 / 40A, 20 / 80A, 40 / 120A ...

Electricity meter cabinets are often used in substations, industrial plants, offices, apartments .... aims to measure, monitor electricity for users or for Electricity units.
Direct illustrations:
Electric cabinet controls motor

Motor control cabinets - As we all know, in almost all buildings from civil to industrial, from factory to automation control systems, it is indispensable for control panels for the motor. Many types of engines such as motors for pumping systems, engines for conveyor chains, engines for compressed air systems, etc. There are many methods to control the above engines as Direct start, star star start, soft start, inverter. In order to do that task, Hahuco has launched a series of motor control cabinets.
Synchronous cabinet

Synchronous electric cabinets are designed to carry out the work of putting generators or power sources working independently into working together. This is a high-tech solution aimed at improving the reliability of power supply and optimizing in fuel economy.

The largest application of synchronous electric cabinets is that in the event of a mains power failure, the standby generators will automatically start, synchronize themselves and share load with each other. automatic monitoring of load and control for running the number of transmitters according to the needs of the load.

RMU cabinet

The English name RMU cabinet is the Ring Main Unit designed with metal enclosed structure, gas insulated SF6 used for medium voltage distribution system up to 36kV 630A.

• This type of cabinet is fully enclosed with all electrical switchgear elements located in SF6 gas cylinders made of stainless steel. Thanks to this characteristic, it creates safe products for operators. Good resistance to moisture and dust.

• The RMU cabinet is connected by cable compartments to use the circuit breaker and the cable out of the transformer using a load breaker with a protective fuse.

• RMU cabinets are divided into 2 types depending on customer requirements:

+ Expandable cabinets (Extensible)

+ Cabinet cannot be expanded (Compact)

• Equipment life:> 20 years.

• Stable operation in any harsh climatic conditions (-250C ÷ + 400C)

• Products are manufactured according to ISO 9001: 2000 and ISO 14001 standards.

RMU cabinet is used in: Small distribution transformer station; Medium transformer station, high voltage underground station or overhead; Wind power plants; Hotels, shopping centers, convention centers, apartment buildings, offices.